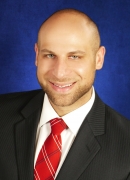 Jason Chorlins CPA, CFE, CITP, CIS, CAMS
Principal Banking Practice Leader, Risk Advisory Services, Kaufman, Rossin & Co.
Jason Chorlins spearheads forensic and financial service investigative engagements as the Banking practice leader of Kaufman Rossin's risk advisory services practice. He advises clients on money laundering, internal corporate investigations, due diligence and regulatory compliance matters to help them. He oversees anti-money laundering (AML) and Bank Secrecy Act (BSA) consulting engagements and assists financial institutions with transaction look-backs, risk assessments, BSA/AML/OFAC independent testing and customer due diligence reviews. He is an industry leader in assisting financial institutions to perform data and model system calibrations and validations for account and transaction surveillance systems. Jason was named the 2018 ACAMS AML Professional of the Year. Since joining Kaufman Rossin in 2007, Jason has advised a wide range of financial institutions from small, privately owned Banks to large, multinational institutions in the United States, Central America, South America and the Caribbean.