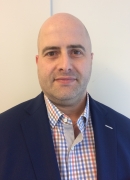 Joseph C. Del Broccolo III
Senior Vice President and Head of Transaction Monitoring Strategy and Liaison, HSBC USA
Joseph C Del Broccolo is the Head of Transaction Monitoring Strategy and Liaison for HSBC USA Inc. responsible for managing AML risks raising from Transaction Monitoring across all lines of business. Joseph's is tasked with ensuring risks to the Transaction Monitoring program are continuously evaluated to ensure it is on top of new emerging typologies and risks as well as new changes to the internal business structure. Joseph is further tasked with ensuring that a clear and consistent communication strategy exists with the business, Financial Crimes Compliance, Information technology and other relevant parties responsible for ensuring risks are covered.
Prior, Joseph worked in a Financial Crimes Compliance Advisory Role at HSBC working with the Business to ensure AML, Sanctions and Anti-bribery Risks were understood and controls were put into place to cover those risks. While in this role Joseph also oversaw the Transaction Monitoring Function for the Broker Dealer building out a surveillance program for the Precious Metals business as well as implementing Transaction Monitoring enhancements to the institutional/Global Markets business and Wealth management functions.
Previous to HSBC, Joseph spent eight years at Forex Capital Markets LLC where he expanded and oversaw the global Anti-Money Laundering and Fraud Program.
Joseph brings experience in process improvement along with an international expertise in AML knowledge to the table. He is an active member in the Association of Certified Money Laundering Specialists "ACAMS" and obtained his Certification in 2009.