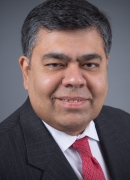 Henry Balani
Global Head of Strategic Affairs, Accuity
Henry Balani is currently Global Head of Strategic Affairs for Accuity, responsible for driving thought leadership in industry. In his prior role as Head of Innovation, he helped pioneer new AML sanction screening solutions related to Trade Finance compliance. He was previously Managing Director with responsibility for managing Accuity's Compliance Group that includes Product Management and Professional Services related to all Compliance Risk solutions. Accuity is a global provider of payments and compliance solutions with clients in the Financial Services and Corporate sectors, including banks, money services businesses, Insurance, Shipping and Manufacturing firms.

Prior to joining Accuity, Mr. Balani was managing consulting practices with some of the largest professional services organizations in the world, including Accenture and IBM. Mr. Balani's previous role was at Pegasystems as their Consulting Director in their Financial Services practice. At IBM he was their Director of Client Services in the Software Group where he successfully managed Lotus' delivery capability in Web application development consulting engagements for financial institutions. He was also a Consulting Manager at Andersen Consulting, now Accenture. Mr. Balani's career began with PriceWaterhouse Coopers in their Advisory Consulting practice.

Mr. Balani holds an M.B.A. from Northern Illinois University and B.S. in Economics, International Trade and Development from the London School of Economics, University of London. He teaches graduate-level classes in International Economics and Global Business and is currently conducting Doctoral level research at the University of Wisconsin. He is an active member of the Project Management Institute, ACAMS, BAFT and GTR and is CAMS certified. Mr. Balani is a noted expert in the financial services industry and is quoted in major publications including the Wall Street Journal & Bloomberg. He regularly speaks at various conferences on topics related to Compliance and Payments Efficiency across multiple industry sectors.