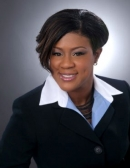 Andrea Saunders CAMS-Audit
Founder and Chief Compliance Consultant, Risk & Compliance Consultancy Services Ltd
Andrea has over 17 years experience within the Legal and Compliance fields. She has held Senior Management positions within the Legal and Compliance fields for over a decade. She has been employed for international banks and trust companies such as BSI Bank and UBS. She is a qualified Compliance Professional with fellow membership from the International Association of Compliance and a Certified Anti-Money Laundering Specialists. She is available for compliance consultancy within The Bahamas, Turks and Caicos and the Caribbean. She is also available for compliance consultancy in other parts of the World.

She currently serves as the Founder and Chief Compliance Consultant of Risk & Compliance Consultancy Services Ltd, a premier consultancy company which specializes in advising financial institutions on compliance and risk management matters.

She is CAMS certified, a CAMS (Audit) Inaugural Class member, a Fellow Member of the International Compliance Association (FICA) and the American Academy of Financial Management (AAFM), a Chartered Certified Risk Analyst (CRA) and a Certified Anti-Money Laundering Consultant (CAMC).